Our Mission  
Emmanuel Youth Choir was born on September 22, 2018, after Father Loi Huynh, our Pastor, and Father Thong Nguyen, our Chaplain, realized the need for an English mass for the Vietnamese youth at Our Lady of La Vang church in San Jose. We celebrated the choir's first feast day on December 24, 2018. Our choir chose the name "Emmanuel", meaning "God is with Us" to remind all of us that we need God at every step of our life and with every breath that we take each day. With Him beside us and within our hearts, we can conquer any obstacles in our life. And every time we come together, we come to Him with a humble heart to thank him for everything that He has given us and we praise Him for His Greatness and His Love with songs and music.   
Our Mass Time and Practice Schedule: 
Our choir sings every Saturday at 4:00 PM at Our Lady of La Vang Church (located at 389 E Santa Clara St, San Jose, CA 95113 (corner of 9th Street and Santa Clara Street). We practice 1/2 hour before and  1/2 hour after mass. If you love to sing, play music, and/or would like to serve the Church in the Church music ministry, please come and join us in singing hymns of thanksgiving and praise to Our Lord Jesus Christ. 
"

My secret is simple: I pray"
— Mother Teresa of Calcutta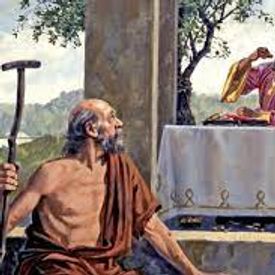 Weekly Reflection
Twenty Sixth Sunday in Ordinary Time, Cycle C
Sunday, September 25, 2022
Gospel Reading
Luke 16:19-31
Jesus tells the parable of the reversal of fortunes between the rich man and the poor man, Lazarus.
Background on the Gospel Reading
A major theme in the Gospel of Luke is the importance of the care of the poor in the life of discipleship. In the parable found in today's Gospel, Jesus contrasts the life of a rich man and the poor man, Lazarus, who lives in the shadow of the rich man and his wealth. Both die. Lazarus finds himself in heaven; the rich man in the netherworld. The rich man asks for assistance from Lazarus in his torment. But Abraham reminds the rich man of the good things he had in his life and describes the current situation as a reversal of fortunes. The rich man then asks that Lazarus be sent to warn his family, but this is denied with the reminder that Moses and the prophets have warned of judgment for those who neglect the care of the poor.
In the context of Luke's Gospel, this parable, delivered in the presence of a crowd of listeners, is part of Jesus' response to some Pharisees. These Pharisees are described in Luke's Gospel as "loving money." (Note: The Pharisees were followers of a sect of Judaism active before, during, and after Jesus' lifetime. They taught an oral interpretation of the Law of Moses as the basis for popular Jewish piety. They put less emphasis on Temple worship and more on applying the law to everyday life. Though they are often portrayed negatively in the Gospels, they shared many of Jesus' and the early Church's concerns about the law.) Jesus observed that the actions of some Pharisees betrayed misplaced priorities: they spoke one way, but acted in another. The story of the rich man and Lazarus demonstrates the importance of the care of the poor and is a reminder to those who would follow Jesus of the unimportance of wealth in the eyes of God